ASIO 155
Asio is a light, compact dual sensors micro-gimbal designed for Unmanned Aerial Vehicles (UAV), Remotely Operated Vehicles (ROV), robots, planes and ground vehicles.
The image stability at 30x optical zoom allows the operators to concentrate on the observation regardless the UAV movement.
The embedded image processing provides a sharper image with a high contrast and a target detection and tracking several kilometers away.
Main functions
Long range observation
Target tracking
Mapping and video synchronization
Moving Target Indicator
Automatic target tracking
Technical datas
EO and IR video analog and IP outputs
IP digital EO/IR simultaneous output
Contrast enhancement
Mechanical and electronic (25 micro rad) stabilization
Video tracking
Moving object detection and tracking
Geo tracking
Stanag 4609 metadata display synchronized with images.
Optional integrated laser beam
Integrations

Applications

Global system integration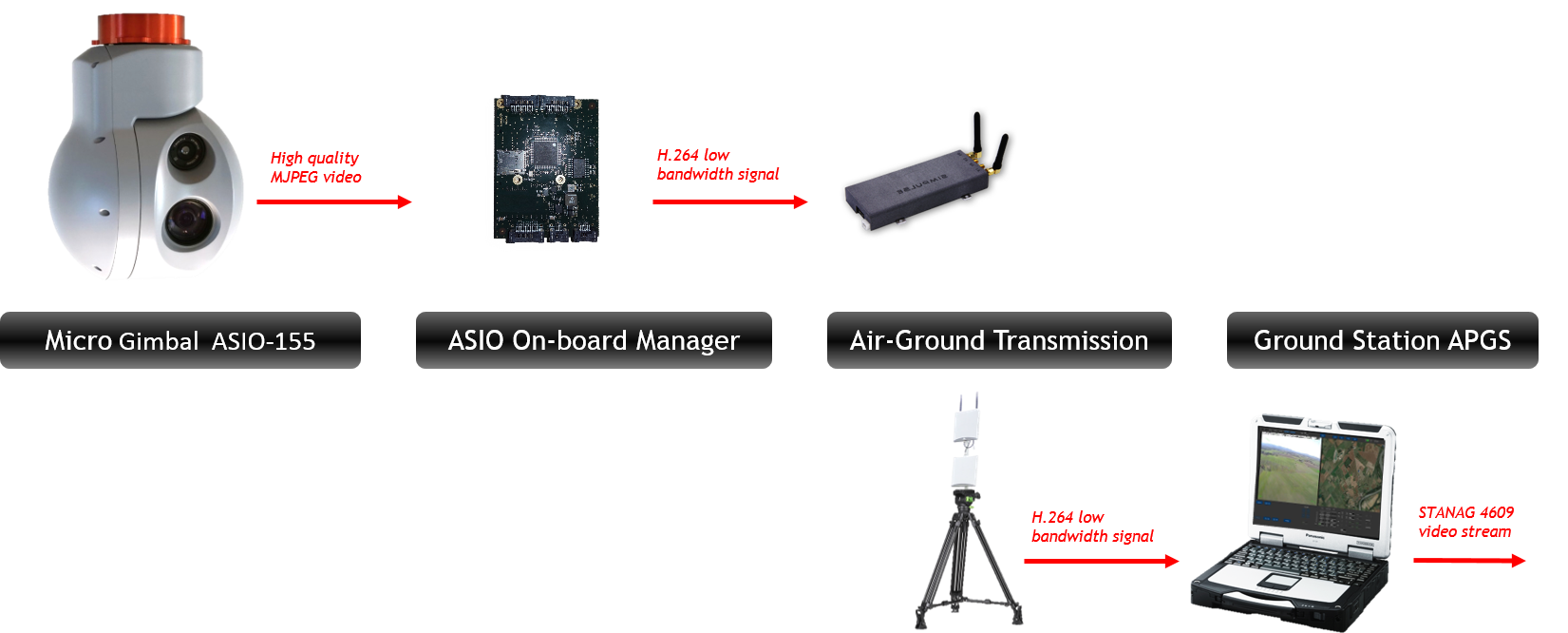 Details
| | |
| --- | --- |
| Mechanics | Two axis gyro stabilised direct drive gimbal |
| Built-in Video Processing | Thirds axis electronic stabilisation, advanced image enhancement, target detection and tracking, metadata insertion |
| Pan/Tilt Range | Infinite |
| Slew Rate | Up to 300°/sec |
| Control Interface | RS485, Ethernet |
| Video Interface | 1x composite (PAL or NTSC) and simultaneous EO/IR digital video |
| Angular Resolution | 25 µrad |
| Mechanical bandwidth | 25 Hz |
| Power Requirements | 12-28 Vdc, 18W (typical) |
| Dimensions | 155mm (6.1 in) diameter |
| Weight | 1.6 kg (3.5 lbs) |
| E/O Sensor | HD 720p, x30, HFOV : 2.3° – 63° |
| IR Sensor | LWIR 640×480, HFOV : 17.7° or 32.8° |